Scouts, Homeschool and Story Art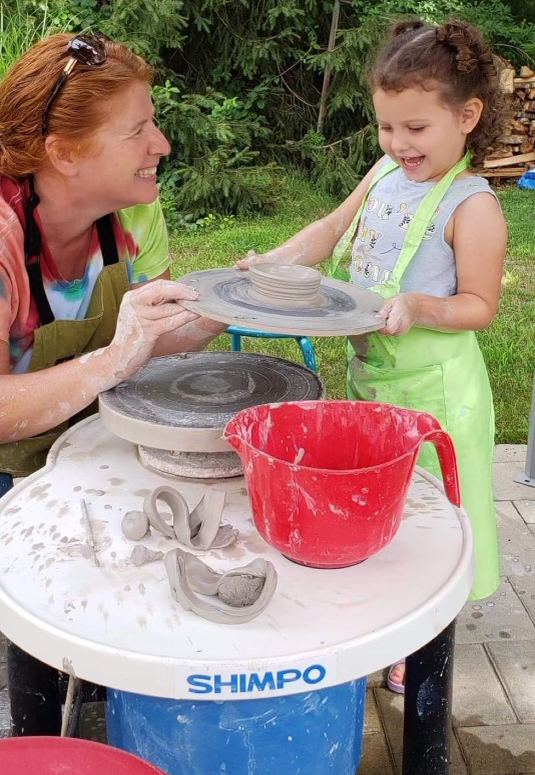 I will gladly host your troop to earn their pottery badge

Choose from a pottery painting ( mugs,plates,bowls )or create with clay.
Each workshop is one hour.
$25.00 an artist 6 artist minimum
A creative idea for a play group meet up! I will read a story to our littlest artists( Many choices, choose at booking) and we will create a simple project in clay related to our story.
Best suited for ages 3-6 $25 each child/ caregiver pair ( additional siblings $15.00)
Space is limited to 5 pairs Workshops are approx. one hour in duration.
2 hours /$135.00 each pair ( ages 14 and up) booked on Fridays and Saturday 
Always wanted to try creating in clay? This is a great chance to try it in a "Clay date" workshop. You will receive instruction in a positive and relaxed environment ….just for fun!!! You will create up to three bowls ( keep best two)  on the wheel. I will glaze in your selected color and kiln fire. Return to pick up within 3 weeks.
You are welcome to bring a sip and snack to this laid back private workshop!
 Clay workshops for all ages will be offered several times a year, keep an eye on the calendar. This is hand building with clay. You are also welcome to request a custom workshop for your friends or family~ a memorable and creative multi-generational experience.


Minimum 4 artists max 8

$45.00 each for 90 minutes. Days/ times vary with availability.
Just getting started on this offering…at this time I am able to offer wedding favors, house numbers and small items. I am looking forward to growing in this area, always ask…you just never know!

Formal make up classes are not offered,However I will do my best to accommodate you if the schedule allows.  If a class is cancelled due to weather a make up class will be offered.